I am an ecological and environmental anthropologist focused on the exploration of local indigenous knowledge to answer questions about adapting and responding to environmental risk and change, cultural knowledge and institutions shaping adaptation, vulnerability and resilience, and environmental and historical constraints on human activities. I have conducted ethnographic and ecological fieldwork in Mozambique for more than 10 years, as well as short-term projects in Tanzania, Fiji, American Samoa, coastal Oregon, and Maryland.  Broadly, I am interested in the complexity of social-ecological systems (SES), the manifestation of sociocultural and biophysical elements within SESs, and the dialectical processes linking elements from the perspective of the people living within the SES.
At present, my work focuses on two main research projects:
Building Conservation Capacity to Save Africa's Vultures - this research aims to assess, build, and strengthen the existing vulture conservation network in southern and eastern Africa, as well as identify tools and other means of assistance for public education about vultures. My work is part of the larger international, interdisciplinary SESYNC Pursuit: Saving Africa's Vultures.
Plant Diversity in Southern Mozambique's Human-Modified Landscapes - this research investigates the relationship between plant diversity and plant use for livelihood activities. This synthesis work draws upon my previous research, as well as archival datasets.
Ongoing research and analysis includes assessing indicators of change within SES using photovoice methods, mapping the SES with network analysis techniques, analyzing agency and impacts of wildlife management, exploring traditional ecological knowledge in an African context, and evaluating the role of health and disease in an SES.  
ORCID: 0000-0002-0635-0576  
Research Website: Knowledge, Response, and Adaptation for Environmental Change (KRAC) Lab
Selected Publications:
In the news:
---
Areas of Interest
Ethnoecology/Local Environmental Knowledge; Social-Ecological Systems; Conservation; Climate Change; Rural Livelihoods; Food and Water Security; Adaptation to Environmental Change; Resilience; Vulnerability; Historical Ecology
Social Network Analysis; Citizen Science; Savanna & Coastal Communities; Southern & Eastern Africa incl. Mozambique, South Africa, Kenya, Tanzania
Degrees
Degree Details

Anthropology (Ecological & Environmental Anthropology), 2009 – University of Georgia, Athens, GA

Degree Details

Environmental Studies (Biology; Geography; Planning, Public Policy & Management), 1999 – University of Oregon, Eugene, OR

Degree Details

Biology (Ecology & Evolutionary Biology) cum laude, 1994 – Cornell University, Ithaca, NY
Current Students
Former Students
Related Students (Listed by Student on Student's Profile)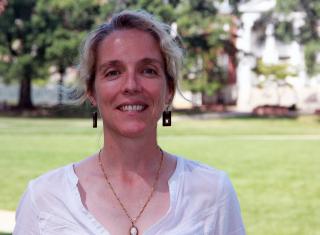 0110 Woods Hall
Department of Anthropology