Psyche Williams-Forson is an Associate Professor and Chair in the Department of American Studies.  From 2009 to summer of 2012 she served as Director of Graduate Studies. She is an affiliate faculty member of the Women's Studies, African American Studies, and Anthropology departments and the Consortium on Race, Gender, and Ethnicity. Her research and teaching interests include cultural studies, material culture, food, women's studies, social and cultural history of the U.S. in the late 19th and 20th centuries.
Her work on material culture and food has been published in her books Taking Food Public: Redefining Foodways in a Changing World and the award-winning (American Folklore Society) Building Houses Out of Chicken Legs: Black Women, Food, & Power. In the latter, she examines the complexities of black women's legacies using food as a form of cultural work. Her new research explores food shaming and food policing in communities of color.  Another study focuses on black women in rural Virginia who worked in the underground economy at a time when few paying jobs other than domestic work were available to them.  A third project analyzes African American class and material culture through domestic interiors from the late nineteenth-century through early twentieth-centuries.
Williams-Forson is the recipient of several teaching awards including one from the [Domonique and Ashley] Foxworth Creative Enterprise Initiative (http://www.arhu.umd.edu/foxworth) that encourages faculty and students to enter into a collaborative learning and working relationship with an under-represented community.  Another from the Academy for Innovation and Entrepreneurship for a "Fearless Ideas" course uses design-thinking activities to address food insecurity in Prince George's County, MD.  Dr. Williams-Forson frequently participated in public and community-engaged activities.  In 2014, for example, she participated on a panel discussion about the history of food, race, and identity in America on the Melissa Harris-Perry shoe. She is the recipient of several fellowships including a UMD Service Learning Faculty Fellowship, a Smithsonian Institution Senior Fellowship, and a Ford Foundation Postdoctoral Diversity Fellowship. She has also been a fellow at the Maryland Historical Society, the Virginia Historical Society, and the Winterthur Museum and Library.
Dr. Williams-Forson frequently participates in public and community-engaged activities.  In 2014, she was a guest commentator on food, race, and identity in America on the Melissa Harris-Perry show. She is the recipient of several fellowships including a Smithsonian Institution Senior Fellowship, a Ford Foundation Postdoctoral Diversity Fellowship, and a UMD Service Learning Faculty Fellowship. She has also been a fellow at the Maryland Historical Society, the Virginia Historical Society, and the Winterthur Museum and Library. She is the curator of "Fire and Freedom: Food and Enslavement in Early America," for the National Library of Medicine (NIH) https://www.nlm.nih.gov/exhibition/fireandfreedom/  and "Still Cookin' by the Fireside," an online text and photo exhibition on the history of African American cookery for the Smithsonian Institution's Anacostia Museum. http://www.anacostia.si.edu/exhibits/online_exhibitions/food/
Research Areas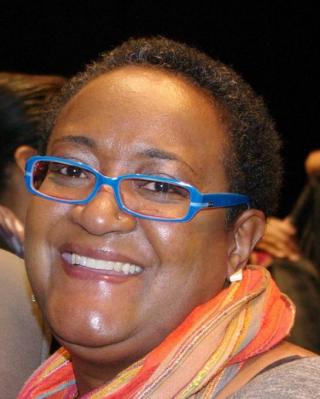 1328E Tawes Hall
Department of Anthropology