E-Lunches
E-Lunches – Discussions highlighting ecological and environmental anthropology and related topics
Join students and faculty in the Department of Anthropology for our monthly E-Lunch series!  E-Lunches are informal brown bag lunch discussions, featuring different topics and presenters each month that focus on ecological and environmental themes.  The intent of the series is to foster a relaxed discussion space to share current work, solicit feedback, and promote communication and collaboration within and outside of anthropology.  E-Lunches are open to all to attend and typically take place on Wednesdays from noon to 1 in 1102 Woods Hall (click here for the full schedule).
New for the 2016-2017 school year, E-Lunches are going electronic!  Using Adobe Connect, we will open up E-Lunches to those who may not be able to attend in person. To keep in the spirit of the informal discussion, attendance will only be possible in real-time – presentations and discussions will only be available through a live webinar (and in person attendance) and will not be stored permanently online for later viewing.  
If you have any E-Lunch related questions, please contact Adriane Michaelis (amichael@umd.edu).
Upcoming E-Lunch: April 19th
April's E-Lunch features a presentation from Dr. Jen Shaffer (UMD Anthropology). Jen will be sharing work focusing on the relationship of biodiversity and ecosystem services within human-modified landscapes of sub-Saharan Africa.  (See the abstract below for more information.)  To attend via webinar, use the following link: https://webmeeting.umd.edu/aprilelunch/.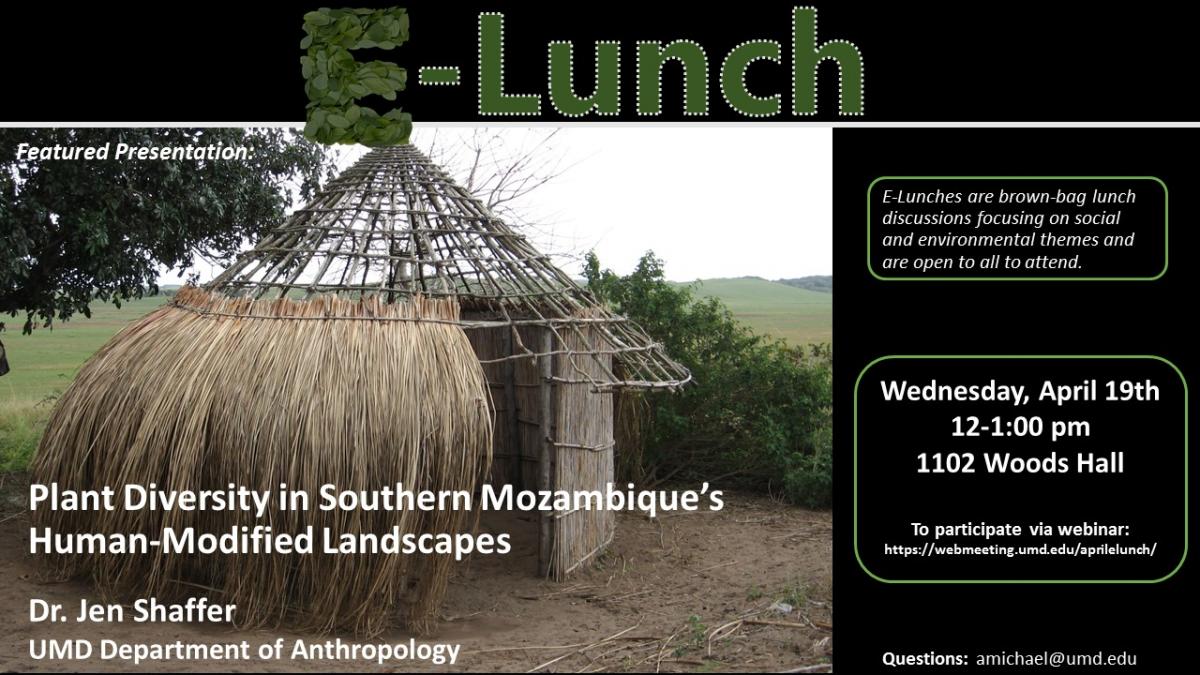 Plant Diversity in Southern Mozambique's Human-Modified Landscapes
L. Jen Shaffer, University of Maryland, Department of Anthropology
Can biodiversity and ecosystem services in sub-Saharan Africa be supported and maintained in landscapes where people live and work, i.e. in so-called human-modified landscapes (HMLs)? This question must be definitively answered in the next decade if the species and ecosystem services that people depend upon, and the iconic plants and animals we associate with this continent, are to survive this century and beyond. Only 12% of sub-Saharan Africa landscapes have protected area status at present. Increasingly, ecologists and conservation managers are asking whether measures to support and maintain biodiversity and ecosystem services can be undertaken in HMLs, the other 88%. Anthropologists, and other social scientists, working with native peoples across sub-Saharan Africa have documented an extensive range of traditional ecological knowledge and environmental management practices that allow communities to access and use natural resources, often plant species, for livelihood production sustainably in HMLs. Their research shows how daily household needs for hundreds of years have guaranteed that nearly every plant species finds some use as food, fodder, medicine, construction materials, hunting and fishing gear, clothing, household goods and tools, ritual items, and/or fuelwood. While modern materials may provide excellent substitutes, personal preferences, tradition, and, most significantly, poverty help preserve the traditional ecological knowledge people need to access and use wild plant species effectively and sustainably. This project proposes to synthesize previously collected interview and botanical survey data to investigate the relationship between plant diversity and plant use for livelihood activities in southern Mozambique.