E-Lunches – Discussions highlighting ecological and environmental anthropology and related topics
Join students and faculty in the Department of Anthropology for our monthly E-Lunch series!  E-Lunches are informal brown bag lunch discussions, featuring different topics and presenters each month that focus on ecological and environmental themes.  The intent of the series is to foster a relaxed discussion space to share current work, solicit feedback, and promote communication and collaboration within and outside of anthropology.  E-Lunches are open to all to attend and typically take place on Wednesdays from noon to 1pm in 1102 Woods Hall (click here for the full schedule).
Until further notice, E-Lunches will not be available via webinar for the 2017-2018 school year.
If you have any E-Lunch related questions, please contact Adriane Michaelis (amichael [at] umd [dot] edu ()).
Upcoming E-Lunch: April 18th
Please join us Wednesday, April 18th to hear from Dr. Carrie Hritz (Associate Director of Research at the National Socio-Environmental Synthesis Center) as she uses examples from her research on ancient Mesopotamia (in present-day Iraq) to demonstrate archaeology's role as a bridging discipline and tool to inform current and future questions of human-environment interactions. (See below for full abstract.)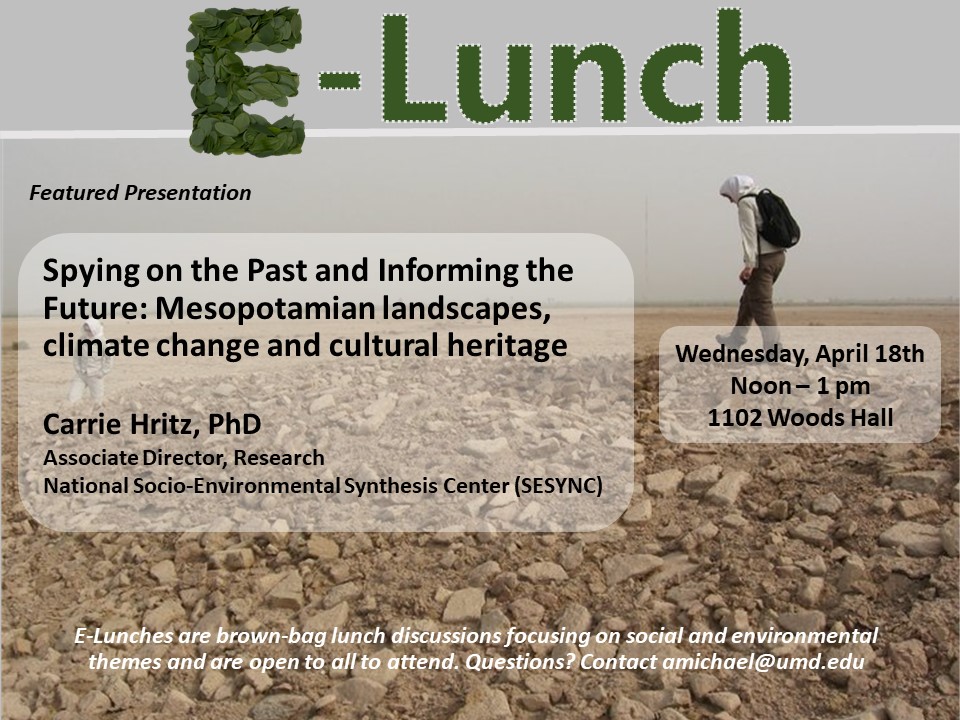 Spying on the Past and Informing the Future: Mesopotamian landscapes, climate change and cultural heritage
Carrie Hritz, PhD
Associate Director, Research
National Socio-Environmental Synthesis Center (SESYNC)
In this presentation, I will discuss the role archaeology can play as a bridging discipline, informing the past, present and future, particularly when it comes to human-environment interactions. First,  I'll step the audience through my research demonstrating how integration of spatial datasets from historical and declassified spy satellite imagery, digital elevation models (DEMs), and past archaeological surveys provides new insights into the role human-environment interactions, particularly a changing environment, played in the emergence of urbanization in ancient Mesopotamia, or modern day Iraq. In this case, GIS and image analysis are used to fill in gaps in the settlement record, begin to contribute to strategies for planning and the cultural heritage-climate change nexus, and propose a revised location for the Tigris River during most of antiquity with significant implications for resource use and management in the past, including address climate change and cultural heritage. Second, I will discuss how synthesis of this data revealed lessons and potential contributions to current and future questions of how humans interact with their environment. I will talk about the applied research I am currently engaged with in the policy realm with the US Global Change Research Program, and the role synthesis centers like SESYNC can play in fostering, linking and communicating the value of archaeological knowledge in socio-environmental synthesis research.