E-Lunches
E-Lunches – Discussions highlighting ecological and environmental anthropology and related topics
Join students and faculty in the Department of Anthropology for our monthly E-Lunch series!  E-Lunches are informal brown bag lunch discussions, featuring different topics and presenters each month that focus on ecological and environmental themes.  The intent of the series is to foster a relaxed discussion space to share current work, solicit feedback, and promote communication and collaboration within and outside of anthropology.  E-Lunches are open to all to attend and typically take place on Wednesdays from 11 to noon in 1102 Woods Hall (click here for the full schedule).
Until further notice, E-Lunches will not be available via webinar for the 2017-2018 school year.
If you have any E-Lunch related questions, please contact Adriane Michaelis (
amichael@umd.edu
).
Upcoming E-Lunch: September 13th
The first E-Lunch of the semester will take place Wednesday, September 13th. Please join us Wednesday to hear from graduate students Kevin McDonald and Adriane Michaelis.  Kevin will be presenting the ethnobotany of the Southern Paiute based on his work with the John Wesley Powell Collection at the SMNH and Adriane will be sharing some of her work on participation in Maryland's oyster aquaculture industry.  (See below for full abstracts.)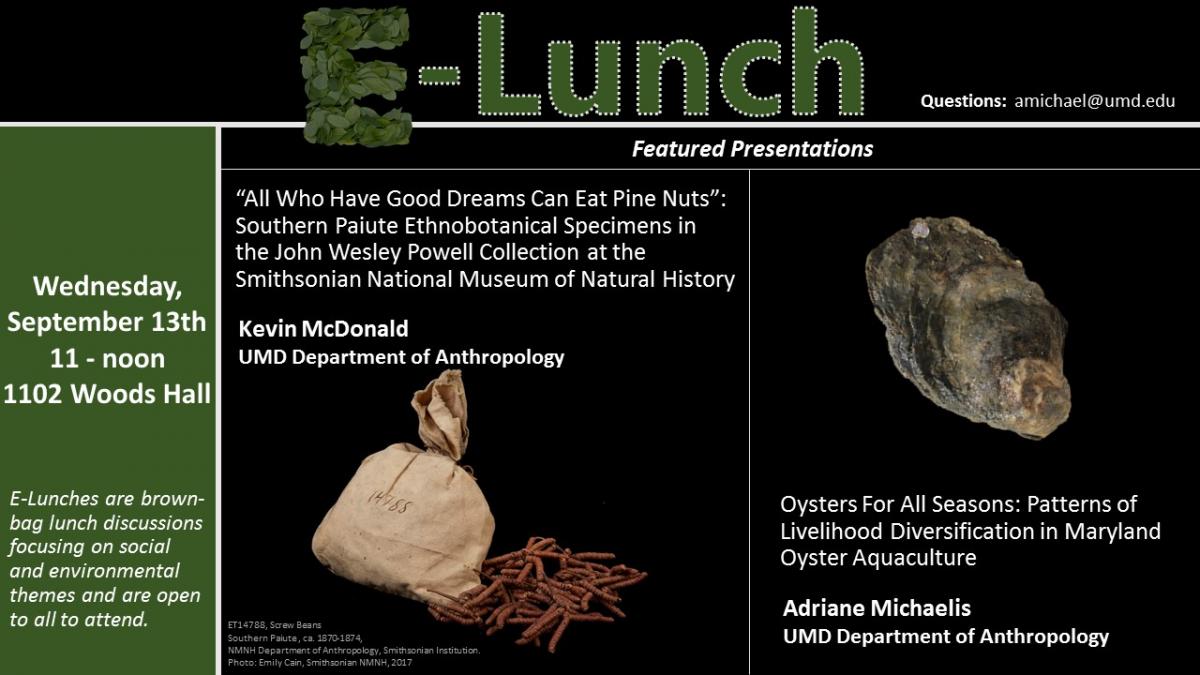 "ALL WHO HAVE GOOD DREAMS CAN EAT PINE NUTS": SOUTHERN PAIUTE ETHNOBOTANICAL SPECIMENS IN THE JOHN WESLEY POWELL COLLECTION AT THE SMITHSONIAN NATIONAL MUSEUM OF NATURAL HISTORY
Kevin McDonald
University of Maryland, Department of Anthropology
In the 1860s and 1870s, John Wesley Powell, the then-future head of the Bureau of American Ethnology, made numerous trips to the Colorado Plateau and Great Basin regions of the United States. While traveling, Powell engaged in a wide range of activities, including mapping, geological surveys, ethnography, collecting, and more. Botanical samples taken among the Southern Paiute provide important clues to Powell's collecting strategies and itineraries, as well as the ethnobotany of the Southern Paiute during a period of regional ecological disturbance due to increased presence of Euro-American settlers, travelers, and other factors. The samples represent both an extant material record of Powell's collecting practices and philosophies and a complicated record of Southern Paiute subsistence at this time. Finally, the question of these samples as material culture will be taken up – what do several-dozen bags of seeds mean in a museum context? How can anthropologists effectively evoke the meaning(s) of these objects? 
OYSTERS FOR ALL SEASONS: PATTERNS OF LIVELIHOOD DIVERSIFICATION IN MARYLAND OYSTER AQUACULTURE
Adriane Michaelis
University of Maryland, Department of Anthropology
The eastern oyster (Crassostrea virginica) represents an ecologically, economically, and culturally important component of the Chesapeake Bay social-ecological system.  Over the past 500 years, the means of harvesting and producing oysters have undergone significant changes, and this has contributed to a continuously changing "bay-scape".  In Maryland, recent (2009) oyster aquaculture lease law revisions may have provided the occasion to change the face of Maryland's oyster industry yet again through increased opportunities to farm oysters via methods both similar to and distinct from the wild harvest.  Though there is potential for a reorganization of Maryland's oyster industry, any dramatic changes are contingent upon the interest and willingness of watermen (Maryland's commercial wild oyster harvesters) to take on oyster aquaculture.  As part of an ongoing project, this study aims to describe to what extent watermen are involved in Maryland oyster aquaculture and the motivations for or against participation from both watermen and non-watermen oyster growers.  For this E-Lunch presentation, I will share data collected thus far that illustrates how livelihood diversification by watermen is occurring in oyster aquaculture, what this might imply for the feasibility of oyster aquaculture as a sole source of income for watermen, and how diversification practices may affect the state's public fisheries.