E-Lunches
E-Lunches – Discussions highlighting ecological and environmental anthropology and related topics
Join students and faculty in the Department of Anthropology for our monthly E-Lunch series!  E-Lunches are informal brown bag lunch discussions, featuring different topics and presenters each month that focus on ecological and environmental themes.  The intent of the series is to foster a relaxed discussion space to share current work, solicit feedback, and promote communication and collaboration within and outside of anthropology.  E-Lunches are open to all to attend and typically take place on Wednesdays from noon to 1 in 1102 Woods Hall (click here for the full schedule).
New for the 2016-2017 school year, E-Lunches are going electronic!  Using Adobe Connect, we will open up E-Lunches to those who may not be able to attend in person. To keep in the spirit of the informal discussion, attendance will only be possible in real-time – presentations and discussions will only be available through a live webinar (and in person attendance) and will not be stored permanently online for later viewing.  
If you have any E-Lunch related questions, please contact Adriane Michaelis (amichael@umd.edu).
Upcoming E-Lunch: March 15th
March's E-Lunch features a presentation from MAA alum Amelia Hood (Johns Hopkins Berman Institute of Bioethics).  Amelia will be leading a discussion on what the Food Sovereignty Movement is all about and wants to hear from you!  (See the abstract below for more information.)  To attend via webinar, use the following link: https://webmeeting.umd.edu/marchelunch/.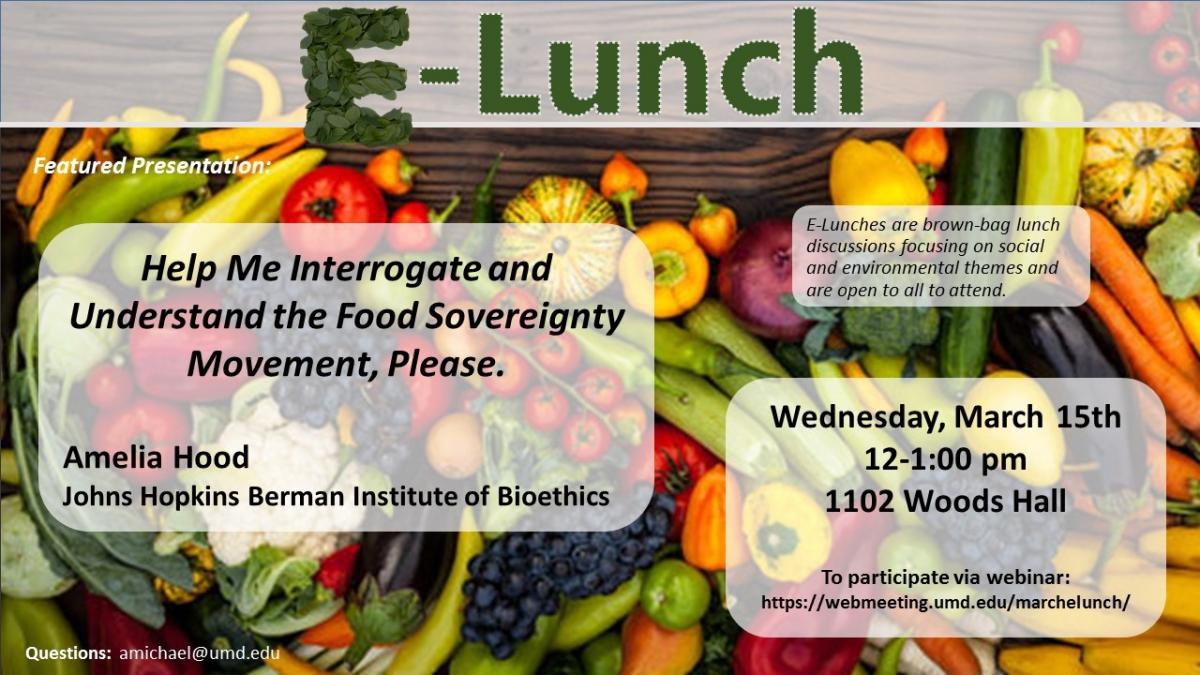 Help Me Interrogate and Understand the Food Sovereignty Movement, Please
Amelia Hood, Johns Hopkins Berman Institute of Bioethics
I would like to really examine the demands, assumptions, and normative assumptions of the food sovereignty movement, and comparing it to other frameworks of governance (e.g. participatory democracy, justice and equity, others). I will present several case studies of food and agriculture policymaking, and then compare and contrast these to the demands and functions of those who advocate for and practice food sovereignty.
Are these different policymaking processes really that different? What are the demands of food sovereignty advocates? What are indicators of food sovereignty? How do we know when it's happening? Is 'food sovereignty' possible within our current political/economic system? Or does it absolutely require a system overhaul (as many advocates say)?
I will share my thoughts up to this point, and am very interested in your thoughts and feedback.